Audible Service Habituation (scroll down for results)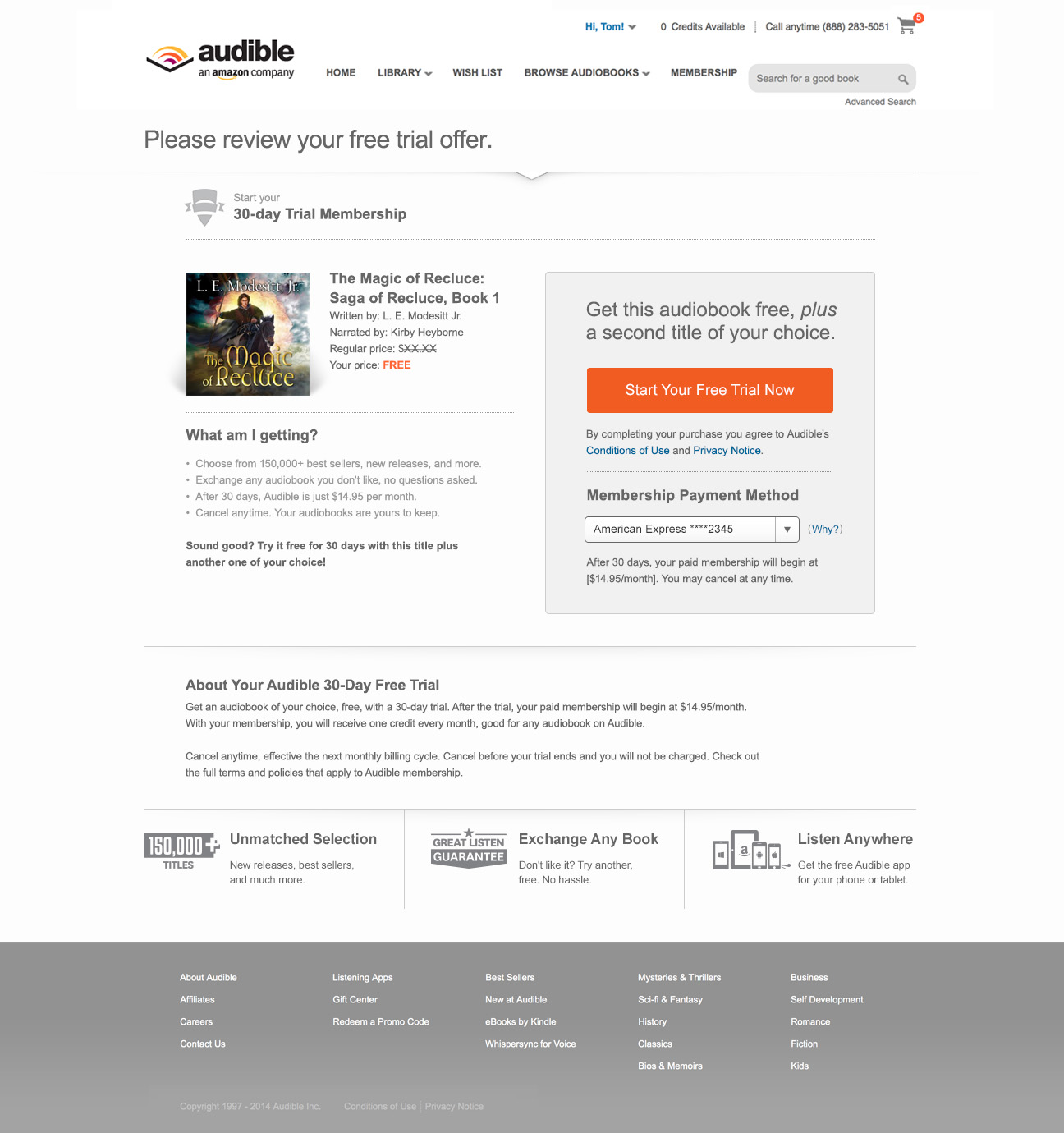 A common mistake among product and marketing leaders is to confuse a business model or profit center with the product. Great products solve a customer problem, monetization, and profits are by-products of the value that customers derive from a given product or service.
Audible's core business is a subscription service. Subscription customers pay Audible a fee every month in exchange for credits which are used to buy Audiobooks. Its a dated model in the age of streaming, but profitable and for customers who listen to Audiobooks frequently, its a great value.
One of the significant challenges for Audible is when new subscribers cancel their subscription because they aren't listening enough to make the service worthwhile. An underutilized Audible subscription becomes like a gym membership you never use; it feels wasteful.
Cancellations are a costly failure for the company, and it drives up the cost of acquiring customers and threatens growth and profitability.
For engaged customers, Audible is a part of their daily habits. It is part of a connected lifestyle that occupies their mind when their hands are busy, frequently in the car, commuting or around the house doing chores.
I started this work as a side project. I was convinced there parts of the experience that caused friction for customers from the very beginning of their engagement, and there was evidence to support it.
Many people who canceled, never purchased a book or downloaded the listening app, Audible's reliance on a "cart" for digital content and membership purchases added unnecessary steps to the decision making process; Audible did an abysmal job of telling new customers how to use the product.
I'm horrible at math, but I'm pretty good at psychology and user behavior. There was a lot of opportunities to fix the customer journey, and I began examining every part of the conversion process, from the first "pay per click" Google search, through the first three months of the member experience. So I found an analyst (who was good at math) and started gathering the insights necessary to make the case to refocus the roadmap on technical and design debt.
Key Findings:
Between 23% and 28% of all Audible purchases are abandoned in cart
More prominent sampling has increased membership trials
Trial members who do not buy a book/use a credit in the first session are 400% more likely to cancel.
Customers who activate the app are 75% more likely to be retained.
If a trial members first book is longer than 20 hours are less likely to be retained.
Membership is an impulse buy
These insights formed the basis of a number of year's long efforts that changed the way Audible looked at customer problems:
Features
Eliminating the cart to focus on low friction "1-click" purchasing. This required a complete refactoring of the purchasing system.
Get customers listening to their first book ASAP. We built the Audible Cloud Player
Redesign of the home page to reduce choices and details in favor of personalization and big, beautiful cover art.
Dynamic "thank you page"/engagement service. We called it "rock paper scissors). What were the next steps required that statistically resulted in customer retention?
Dynamic offer page/ "book in hand" strategy. Don't make customers hunt for a book they find via Google, or discover on the site. Allow them to convert quickly with the book in hand and get listening immediately. People come to listen, not to join a membership, don't focus on membership until they've found a book. Make membership seem like the good deal they're looking for.
Results:
Product detail click-thru-rate is up + 400 bps.
Search click-thu-rate down from 21.5% to 18.8%. (down is good) most of our traffic currently goes directly to search because our core pages are so awful.
Revenue per visitor 3% higher than the old reg homepage
Conversion to recurring membership/subscription up 40bps.
Bounce rate is down from 13% to 11.5%. (down is good)
Solicited customer feedback: 67% is overwhelmingly positive. Most of the negative feedback is either about things that have nothing to do with the homepage.
Orders/Customer = 20.07% Improvement
Rev/Customer = 18.76%
Units per customer = 2.84%
Paid Subscriptions = 19.58%
Detail Page views = 50.91%
Searches Per Session = 20.10%
Cart Adds per session 23.65%
Wishlist Adds per session 16.51%
Sample Plays +40.04%
Average session Length + 40.81% (26 to 37 minutes)