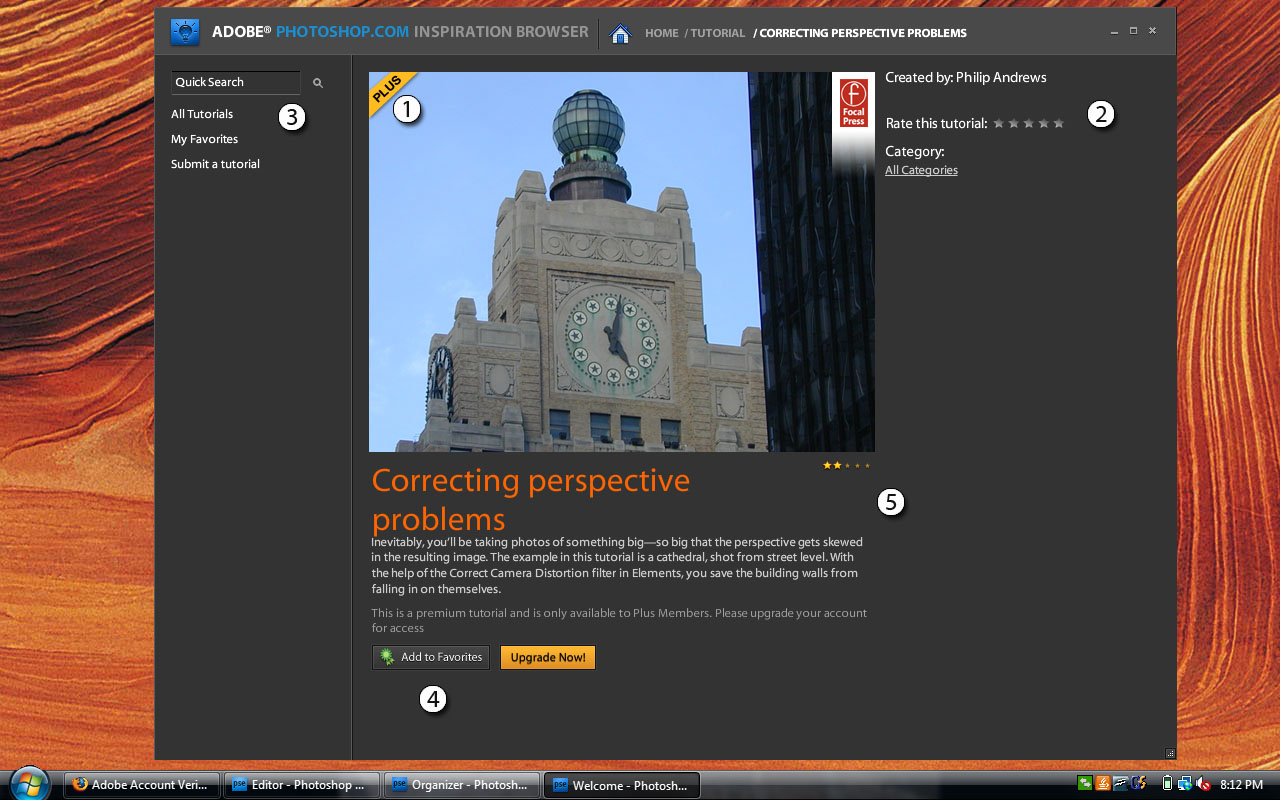 Adobe Elements Inspiration Browser
One of the biggest challenges faced by many Photoshop Elements users is the knowing where to start a project. People buy Photoshop Elements because they want to make beautiful things with their photos and to share them with friends and family. But for many part-time creatives (hobbyists, novices, amateurs etc.) the prospect of starting from a blank canvas is terrifying.
The Photoshop.com Inspiration Browser was introduced with Elements 7 to help alleviate this problem. The user experience actually relies on two related features. The first feature is Inspiration Pods, which are contextually-based messages which appear in the lower right hand corner of Photoshop Elements, Organizer and Premier Elements. The Pods deep-link to contextually relevant tutorials hosted in the Inspiration Browser.
The Inspiration Browser its self is a stand-alone application built on Adobe's new AIR integrated run-time. The 1.0 version of the Inspiration Browser is a simple tutorial browser which allows users to access both PDF and Flash video tutorial content submitted by Adobe, elements users, and third parties. The cool thing about the Inspiration Browser is that since its built on AIR, it can easily be updated with new features and functionality over time.
Inspiration Browser Screen call outs:
The Inspiration browser has several search and sorting accordances including text and keyword search
The user can filter the number of tutorial results dynamically by user rating and can browse results in a list or grid view.
User can add their own ratings to tutorial content and can assign tutorials "favorite" status for easy recall later
Community favorites/popular tutorials can be easily browsed in the horizontal strip below
Users can retrieve related tutorials by clicking on the meta information of a tutorial such as author, level and category
Tutorial Detail screen call outs:
Some tutorial content is limited to Elements Member Services Plus subscribers.
The rating widget in this screen reflects the user's rating
Consistent access to search functionality on left
Add to favorites allows users to save tutorials for later access.
This rating reflects the community rating for the tutorial.